Timber/Earth Rampart Fortifications
These new modular fortification features are made using a light weight, strong, tough, durable polyurethane resin. The single features are designed to 'sit' on top of Hexon terrain boards or single hexes, but can be used independently. (Pieces fit into single hexes 100mm across flats.) The grey colour has been chosen to aid painting/finishing the pieces. The entrance gate has the option of a gate, available separatley, are free standing and cast from lead free pewter. The open gateway allows miniatures mounted on 40mm wide bases to pass through.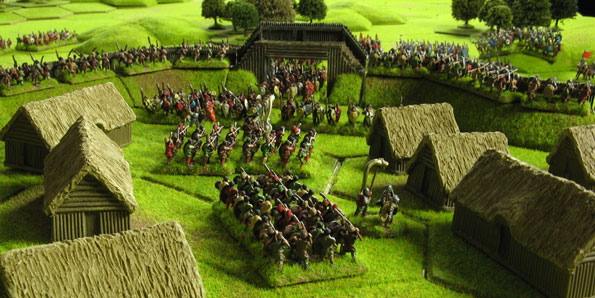 Timber/Earth Fortifications

RD1
100mm Timber/Earth Rampart
£5.00
RD2
200mm Timber/Earth Rampart
£10.00
RD3
External Curve Timber/Earth Rampart
£5.00
RD4
Internal Curve Timber/Earth Rampart
£5.00
RD5
Entrance Gate Timber/Earth Rampart
£5.00
RD6
Wooden Gate for Timber/Earth Entrance (Pewter)
£2.50
Dark Age Dwellings
Made using the same durable polyurethane resin as our other resin products. The dwellings are available in sets of 3, containing 1 x small, 1 x medium and 1 x large house.
Dark Age Dwellings

RD7
Dark Age Dwellings - Pack of 3
£8.50
RD8
Dark Age Dwellings, A- Frame - Pack of 3
£8.50

Please note all these resin features are supplied unpainted.

Preparation and Finishing Guide. Click Here