Important Information - please read

Kallistra will be at Salute, ExCel, London on 13th November stand TM06
Please to avoid disappointment, remember to pre-order your goodies. Our ranges are so extensive it is impossible for us to carry all our products or large quantities of any of our products due to space restrictions.
Our WW1, ACW and AWI together with the Hordes & Heroes Historical and Fantasy ranges and Hexon Terrain system are very popular, and despite our best efforts, will always run out of stock of some items very quickly on the day.
So PLEASE, if you're going to SALUTE and you know what's on your Kallistra shopping list, place your order in advance, we will bring your order along so you can collect it at your convenience, at some point during this very busy day.
You can use the webshop, e-mail or telephone your orders in advance.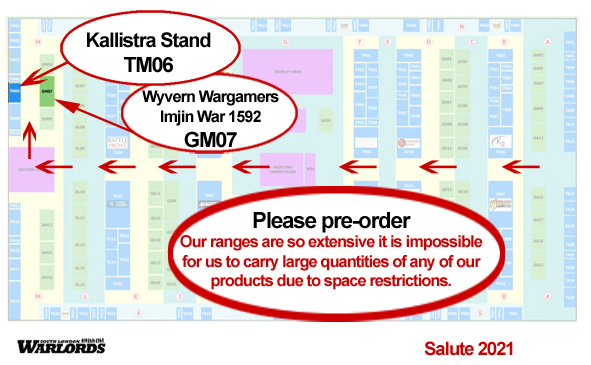 How to place a show pre-order online
To make sure we have the items you would like…
Login to your Kallistra account, if you do not have an account, it's free and only takes a minute to register.



Add the items you want to order to your shopping basket.

When you are ready, click on the '

Go to Checkout >>

'




There is a drop down menu beside the delivery option, select '

Collect from Show'



In the Shipping and Billing Address Details a dropdown menu will appear under Collect Order From…


Simply select which show you would like to collect your order from.





You can chose to pay in advance using your Credit/Debit Card or PayPal, please submit your details appropriately or select Pay on Collection. Then click on 'Confirm & Place Order'





You will receive an email confirmation of your show pre- order.
We'll pack your order and make it ready for your collection at your convenience at some point during the day.
Please get your SALUTE order to us, Ordering deadline is 23:59 Monday 8th November at the very latest! If you place a Salute order after this time, we cannot guarantee having your order ready for you to collect.
Imjin War 1592
The chaps from Wyvern Wargames club will be staging Imjin War - 1592 participation game GM07 using Kallistra's Medieval Rules, miniatures and Hexon Terrain.
So come on over and take a look... you can join in too!
For more information about Salute 2021 visit the Salute website here