Postage & Packaging and Delivery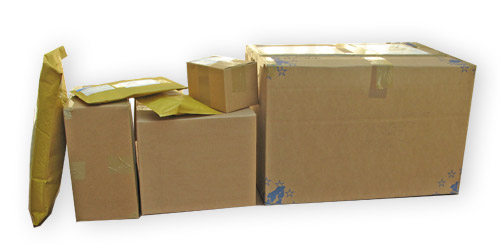 Delivery of your order
Brexit issues may still affect the delivery of some overseas orders, due to additional customs checks. We therefore ask for you to please be patient on the delivery of your order!
Under the current situation if you prefer your order to be tracked, then please add a message in the 'Additional Note' box as you proceed through the check out so this can be applied to your order, there is a small additional charge for this.
Thank you to all our customers for your support throughout these strange times.
Please note, postage and packaging of Hexon Box sets is different from that of miniatures, as these are dispatched by courier, see below. Our shipping rates are calculated based on the complete weight and volume of your order. If the P&P charges are considerable lower than that calculated, the P&P will be adjusted accordingly when your order is processed.
Please note:
If your order is delivered outside the UK, it may be subject to import taxes, customs duties and charges in the destination country, payable by the customer. Kallistra has no responsibility for these charges.
P&P for items excluding Hexon box sets... For Hexon Box Sets

click here
UK, BFPO - at cost (Minimum £3.75)
Overseas orders under 2kg are dispatched using the Royal Mail International Small Packet Post. This is not a tracked service. If you would like your order sent using the International Tracked service please contact us when placing your order by adding a message in the 'Additional Notes' box as you proceed through the online checkout.
Overseas orders Over 2kg are dispatched using a courier, these are tracked.
Europe* : (Minimum £5.00)
Shipping is calculated by weight and volume of package. Orders over 2kg in weight may incur slight additional courier costs.
Rest of World, including Australia, Canada, USA and New Zealand (Minimum £5.00)
Shipping is calculated by weight and volume of package. Orders over 2kg in weight may incur slight additional courier costs.
Europe* :
Albaina, Armenia, Austria (EU), Azerbaijan, Azores (EU), Balearic Islands (EU), Belarus, Belgium (EU), Bosnia Herzegovina, Bulgaria (EU), Canary Islands, Corsica (EU), Croatia, Cyprus (EU), Czech Republic (EU), Denmark (EU), Estonia (EU), Faroe Islands, Finland (EU), Georgia, Germany (EU), Gibraltar (EU), Greece (EU), Greenland, Hungary (EU), Iceland, Irish Republic (EU), Italy (EU), Kazakhstan, Kosovo, Kyrgyzstan, Latvia (EU), Liechtenstein, Lithuania (EU), Luxembourg (EU), Macedonia, Madeira (EU), Malta (EU), Moldova, Monaco (EU), Montenegro, Netherlands (EU), Norway, Poland (EU), Portugal (EU), Romania (EU), Russia, San Marino, Serbia, Slovakia (EU), Slovenia (EU), Spain (EU), Sweden (EU), Tajikistan, Turkey, Turkmenistan, Ukraine, Uzbekistan, Vatican City State.
Rest of the World:
Covers all countries, not defined as being in Europe.
Australia, Belau, British Indian Ocean Territory, Christmas Island (Indian Ocean), Christmas Island (Pacific Ocean), Cocos Islands, Cook Island, Coral Sea Island, Fiji, French Polynesia, French South Antarctic Territory, Keeling, Kiribati, Macao, Nauru Island, New Caledonia, New Zealand, New Zealand Antarctic Territory, Papua New Guinea, People's Democratic Republic of Laos, Pitcairn Island, Republic of Singapore, Solomon Islands, Tahiti, Tokelau Islands, Tonga, Tuvalu, USA, US Samoa, Western Samoa.
P&P for Hexon box sets and equivalent Hexon Boards
Hexon box sets are delivered by courier, FedEx, UPS, DHL or other. It is important to supply your full postal address and contact telephone number when placing an order. Why? You may need to be contacted regarding the delivery of your order. If the courier calls when you are out arrangements can be made to rearrange delivery of you parcel at your convenience. A tracking reference will be emailed to you so you can follow the progress of your order online.