Your FREE copy of Hordes & Heroes Medieval and Army Lists are ready for download.
Please note the pdf. files are 8 and 5Mb respectively, and may take a few seconds to download depending on you connection speed.
To read these files you will need Adobe's Acrobat Reader on your computer.
Click on the images below to download you copy of HHM and HHM Army Lists
One A4 Quick Reference Sheet is sufficient to contain all the information necessary to play Hordes & Heroes Medieval. The main rules need only be consulted when players are learning the rules, and occasionally thereafter, to clarify situations as they arise. An example of a Quick Reference Sheet is shown below. It's quick and easy to generate the required reference sheets for your Hordes & Heroes Medieval Battle. Click here for more information.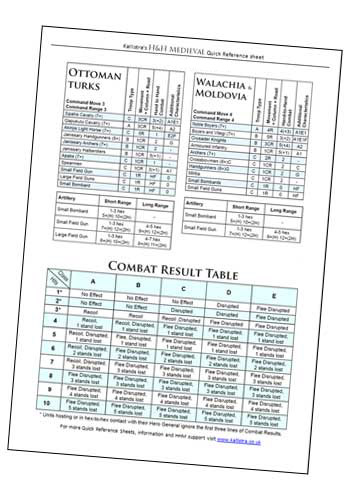 Let us know what you think about Hordes & Heroes Medieval, feedback is always welcome...